Formulating a vision or an ambition
Written by Albus Conseil, C. Grodner
the 12 Mars 2020
in Drive an innovative project // Set a goal and give it meaning (across the organisation)
Formulating a vision or an ambition is key in management. Setting a course of action, initiating a project around a strong idea, mobilizing an Executive Committee , etc..  Regardless of the cultures, the context and the groups concerned, it is a must.
It is a starting point for the human dynamics of a project. Without it, you will not be able to develop an efficient mobilization strategy  (such as the strategy of the allies) and you will miss out on numerous levers to get buy-in from your team ( Cf.  VUD )
Voicing a vision, is simple  ; anyone can do that. Finding THE right vision , however, is not always easy.
To start with, let's make a clear distinction between vision, objective, strategy or work axis.
-Vision and objective : an objective is purely quantitative whilst a vision is meant for a human collective.  It ranks higher than objectives as it is meant to provide meaning.
"Becoming the leader.."is an objective, "finding out the volumes that will ensure our future" can be a vision providing you specify where and why.
-vision and strategy : a strategy is the answer to a precise rational challenge "how to allocate our rare resource (mainly consisting of gaining time) ?", the vision does not have this type of restriction, it must be emotional, it can be symbolic, etc..
Ex : " staking everything on high -end products" is a strategy, "providing our client with a unique service" could be a vision.
-Vision and work axis : a challenge of quality or Transversality is a good work axis, but is not enough to define an ambition. A work axis can be "cleared", a vision is not perishable.
Ex : "improving the quality of our service" is a work axis ; " becoming our clients' "favourite supplier" could be a vision, providing that the word "favorite" really means something.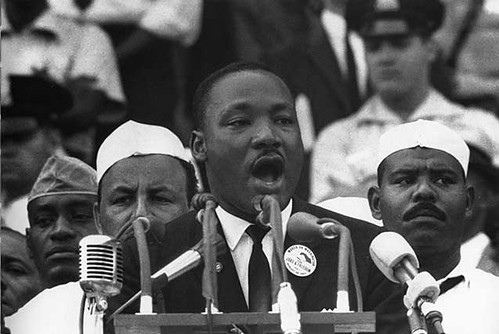 Martin Luther King's "I have a dream" is one of the mythical ambitions of the 20h century.
Here is a list of characteristic elements to help you set an ambition or a vision :
A vision cannot be an element of your company project
It is your company project that is an element of your vision otherwise it would mean that you have fallen in the trap mentioned above of a vision-objective or a line of work.
A vision must be "outward-looking"
"Becoming the best of the world" is stimulating but will turn you away from the outward-looking aspect and it will encourage an "every man for himself" attitude.
"Making all the benefits of sports accessible (Decathlon's company vision), is a vision which includes an operational reality and a promise to the client ; it is much more open.
A vision must involve the actors on the ground.
"Doubling our turnover within 5 years", this is not a challenge for the actors on the ground.
"Making sure we hold on to our historic know-hows", is clearly a challenge.
A vision must involve all the services :
"Developing our operational excellence": that would exclude the support functions from directly contributing to the vision.
"Giving our client a unique experience" would be broader, everyone will contribute.
A vision must be positive :
"Refusing the fatality of economic decline" is a vision which leads to antagonism and disagreements.
"Reaching for growth together to ensure our future" will lead more directly to proposition-making, to collaboration, to assuming good intention.
A vision must be unique
"Becoming the leader on our market", that would be applicable to all the other companies of the world.
"Becoming the favorite store for rock fans" would definitely be an ambition that intrinsically bears its own identity.
A vision must be ambitious and almost unachievable :
"Maintaining our budget every year" is an achievable goal ; achieving it, however, does not mean it is an extraordinary deed ; it is a reminder of what you should be done every year.
"All our clients should have a smile on their lips after dealing with us", is not necessarily measurable or achievable but is a source of formidable action and questioning.
A vision should be easy to encapsulate in a few sentences :
Any vision which cannot be summarized in one sentence will be more difficult for your collaborators  to remember ; a vision which is not in all minds is lost.
A vision may not be very clear
A vision is a remote objective in terms of values and quest, such as "liberty/equality/fraternity" in France. It is difficult to define, to translate in simple acts and can lead to contradictory debates. But it does not matter because, if it leads to a debate, your team will make progress, become more mature. The "deliverable" of vision is maturity and responsibility.
It is not an action plan.
Liberty, Equality, Fraternity : the French ambition has all the characteristics of a good ambition !
---
Page read 1321 time(s)